For more information, or to join,
call Jenny Bowen on 01638-
Three Rivers Mothers' Union
Mothers' Union - next on Wednesday February 13
A talk on 'Shine a Light' (a Newmarket based group) at Chippenham village hall at 2.30pm.
All welcome.
.....

Recent meetings

Lent lunches - thank you...

Thank you to all those who helped arrange and attended our Lent Lunches.

£322.40 was raised for Mothers' Union Charities at Chippenham, Fordham and Isleham.

A further £100 for Medecins Sans Frontiere was raised at Kennett. Carol and Stephen extend special thanks to the Hall Committee for letting us use their splendid new facility for free.

Advent Carol Service at Soham on Monday November 27

A good Advent Carol Service at Soham on Monday, followed by a light lunch and time to socialise. Enjoyed by all who came.

The Mothers' Union Tea Party - Wednesday August 9

An afternoon Tea Party at St Andrew's, Isleham Social Centre marked the anniversary of Mary Sumner, Founder of the Mothers' Union.

A delightful Coffee morning - July 13

Thanks to all who came and helped raise over £100 for M.U. projects.

The MU Garden Party at the Bishop's Garden

The Garden Party at the Bishop's Garden was a beautiful evening. Entertainment by the Ely Imps was great.

The trip to Denny Abbey and Farm Museum was a very pleasant afternoon.

The Mothers' Union - May 24

Hazel Williams spoke on "MU Fundraising and Communications".

Three Rivers Lady Day service - March 24

Three Rivers Lady Day service was at Burwell on March 24, followed by lunch.
Mothers' Union sponsored walk - October 15
Many thanks to everyone who sponsored Jenny, Ren and/or Helen in their recent sponsored walk. They raised over £200 which is very heartening, so thank you.
AGM - September 19
Our next meeting was held on Monday September 19 at Chippenham Village Hall. After our AGM, one of our members gave a short talk about Kairos, an International Prison Ministry – a Christian Charity. This was followed by tea and cake.
Garden Party - August 9
We celebrated 140 years of our organisation with a Garden Party at Fordham Vicarage on 9th August – Mary Sumner Day, who founded the Mothers' Union. Some members from Burwell joined us, as did over twenty of our members and supporters and we enjoyed afternoon tea with the marquee decorated with bunting made by our members (thanks to Jackie Naylor for sewing it together).
A big thanks to all those who contributed sandwiches, scones and cake which were much enjoyed and to Jenny Bowen for her help with providing the pretty crockery etc.
Recent meetings
Approximately £200 was raised at our annual coffee morning at the home of Eileen Page, which was a great success. The money will go to MU charities.
On Thursday July 21 we enjoyed a super outing through the Suffolk countryside.
Mothers' Union branch meeting - June 20
A big thank to the members who helped make the MU bunting for parish social events, particularly Jackie Naylor and Jenny Bowen for their input.
Mothers' Union branch meeting - Monday June 6
We held a well attended meeting at Chippenham Village Hall. Our speaker is Jean Thomson (wife of the Bishop of Huntingdon) – her theme was "The Past Year". and afterwards a lunch at La Hogue.
Mothers' Union branch meeting - April 28
Our branch meeting on Thursday April 28 was at St. Peter's Snailwell, where Dr Stephen Taylor told us the history of our round towered church. It was followed by a lunch at the George & Dragon, Snailwell.
Mothers' Union Deanery Lady Day service - April 4
The Deanery Lady Day Service which this year took place at Lode Church on Monday April 4.
Lent lunches
Our three Mothers' Union Lent Lunches have been very successful and raised over £460.
We are sending all of this money to MU Projects Worldwide.
2 x £100 – "Salt and Light" – which establishes self help groups in churches to help the wider communities.
4 x £40 – "Going the extra mile" –to fund development co-ordinators.
2 x £50 – "Helping Hand" – training parenting facilitators group.
Women's World Day of Prayer 2016 - Friday March 4
This year this service wasis on Friday March 4 at St. Andrew's Church, Isleham. It was written by the women of Cuba and has a Caribbean flavour.
Lent lunch at Chippenham on March 9
Our final Lent lunch was at Chippenham on Wednesday March 9 at Chippenham Village Hall from Noon–1.30pm.
Lent lunch February 22
Another great turnout for our second Lent Lunch – this time at Isleham. The homemade soup, sandwiches, fruit, tea and coffee were again very popular.
A big thank you to Gill Savage and Mary Wightman for the lovely soup and Angie and Betty Ashley for their contributions.
Our third and final Lent Lunch is at Chippenham Village Hall on Wednesday March 9 from noon–1.30pm. Everyone is welcome.
All proceeds will go to MU project overseas and we will announce our final total of money raised and the projects supported later in the pewsheet.
Lent lunch February 15
Our first Lent Lunch on a cold day was a great success. The weather brought out many who enjoyed the homemade soup, sandwiches, fruit, tea and coffee at the Victoria Hall, Fordham and we had to get out extra seating. A big thank you to Jenny Bowen, Jacky Naylor and Jean Bayes for all their hard work in giving us an enjoyable lunch and a time to socialise.
Craft, cookery and coffee morning - January 11
A big thank you to Gaynor for a very enjoyable Craft and Coffee morning demonstration of two delicious cakes – Blueberry Muffins and Hello Dolly Bars. Some of us enjoyed lunch at La Hogue Café.
16 Days of Activism Against Gender Violence from November 25
This is the third year Three Rivers Mothers' Union is supporting this campaign. There will be prayer trees with the opportunity to pray for many who suffer or have suffered physical and mental violence.
A very big thank you to everyone who has donated toiletries etc. to women's refuges in Cambridgeshire during the 16 Days of Activism. The response has been overwhelming and many of the donations have already been handed on to those who will benefit from them and your gifts, thoughts and prayers are much appreciated.
Christmas lunch - December 7
Members of the Three Rivers branch of the Mothers' Union enjoyed an excellent Christmas Lunch at the Walnut Tree, Worlington. The food and the company contributed towards a very relaxed and enjoyable time together.
Talk by MU chaplain - October 9
We enjoyed and excellent and thought provoking afternoon with our Chaplain, Valerie Kilner last Friday, who gave us a selection of different ways to pray, including art and clay. Several members from other MU Groups in our Deanery joined us to hear Valerie and enjoy refreshments afterwards.
Mothers' Union Deanery Coffee Morning - September 25
Deanery MU Coffee Morning was held at Chippenham Village Hall on Friday September 25. Stalls included Cake & Produce, Books, MU Cards and Refreshments.
AGM - September 21
Our AGM took place at Fordham Victoria Hall f on Monday September 21. Tea and refreshments were provided.
A day trip to Eleveden - August 27
Day Trip to Elveden with lunch.
Day trip to Highway Garden Centre - July 10
A big thank you to Gaynor and Jenny for the smooth organisation of our trip to Highway Garden Centre and the Van Dal Shoe Retail Outlet. The weather was fine and a good time had by all.
Coffee morning - July 3
A big thank you to Eileen & Tony Page for opening their lovely house and garden as a venue for our coffee morning last Friday. The fund raising event was enjoyed by all.
Jo Wibberley
Jo Wibberley, Diocesan Vice President, has been cycling around our churches in the Deanery these past couple of weeks, in all weathers. Members of the MU have also accompanied her. Thanks to everyone who gave their time, especially Helen.
A good members' day too on May 20 in Cambridge.
Garden party in Bishop's garden at Ely
Ten members attended the Diocesan Garden Party and enjoyed the setting and the roses. It was an excellent evening with strawberries, shortbread and cream with fizz! The Ely Imps Singing Group entertained us and it was a good opportunity to mix with other MU members.
A talk by Dr Stephen Taylor
A great talk about Fordham's history by Dr Stephen Taylor at Fordham Church on St Barnabas' Day. Many thanks.
A talk on cardiac health at Isleham on May 13
Kathy Carver gave an excellent talk about heart problems and the care we all need to take to keep our hearts healthy. It was lovely to see many new faces as the talk appealed to many members of our congregations.
A visit to the National Stud at Newmarket on Friday April 24
We made a visit to the National Stud at Newmarket on Friday April 24.
Spring Diocesan Day and annual meeting on April 20
Spring Diocesan Day and annual meeting was held on Monday April 20 at St Peter's in March 10am–1pm.
Deanery Lady Day Service on March 25
Our Deanery Lady Day Service was on Wednesday March 25 in Lode Church.
Lent lunches 2015
This year we held Lent Lunches at Fordham, Isleham and Chippenham.
A big thank you to those who have provided homemade soup and sandwiches and those who have supported these lunches, our final total was over £300 which will go to MU Worldwide projects.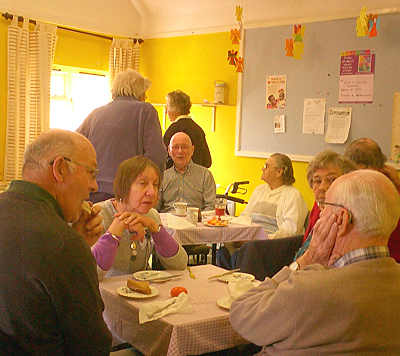 The second Lent lunch was held in Isleham on March 5.
Mothers' Union - February 4
We met on Wednesday February 4 at Chippenham Village Hall where our speaker is Sue Potts who took the title "God's work – our hands" as her theme.
Craft and cookery demonstration and lunch - January 12
We met for a craft and cookery demonstration with coffee and cake at Gaynor's home in Snailwell , followed lunch at La Hogue.
Mothers' Union Christmas lunch - December 8
Sixteen members enjoyed a lot of excellent food and laughter in a lovely location at The Beeches, Isleham.
16 Days of Activism Against Domestic Abuse November 25 – December 10
This is the second year the Mothers' Union has supported this social action and there is a prayer tree in each of our churches. Please read the information provided with the tree and use the labels provided to write a prayer for those who have or still suffer from domestic abuse. For more information concerning domestic abuse both in Britain and worldwide contact Helen Banyard 721616.
Visit by Sheringham MU - July 11
Janice Pope and members of Sheringham MU visited Ely and Isleham on Friday July 11. They met up with the Three Rivers Group MU for Afternoon Tea in the gardens of the Social Centre followed by a service at St. Andrew's Church, Isleham. A very big thank you to all who contributed to making the visit from Sheringham MU such a success.
Meeting on June 18
Thanks so much to Malcolm and Liz Barber for inviting us to their home for a super and illuminating talk on the Knights Templars. It was both fascinating and informative and we could have stayed much longer and heard more. Perhaps we can persuade him to give a further talk sometime in the future.
Fund raising
The committee would like to thank members and supporters who attended the Lent Lunches and Coffee Mornings during 2013.
We were able to send £150 each to AFIA (which provides holidays for underprivileged families) and the Wheels Appeal (which supports MU workers in Africa who require transport to do their work) and £200 towards providing school uniforms for children in Rwanda.
Thanks also goes to those who knit for premature babies at the Rosie Hospital and save stamps to help the Church in South Sudan.
Three Rivers Mothers' Union banner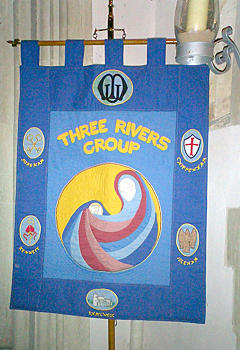 Our new branch banner was blessed at the Holy Communion Service held at Chippenham Church on Monday November 12. It was paraded at the Commissioning Service on Saturday 24 at Ely Cathedral.
The Mothers' Union Magazine, Families First
The Mothers' Union Magazine, Families First, is now available in some branches of Sainsburys,
W H Smith and local newsagents. Locally it can be bought for £2.50 from Central House, Burwell, W H Smith Cambridge and Tindalls Newsagents Newmarket and Ely Station. It is an excellent family magazine and we encourage you to give it a try.
Purpose, Aim and Objects
The purpose of the Mothers' Union is to be specially concerned with all that strengthens and preserves marriage and Christian family life.
The Aim of the Society is the advancement of the Christian religion in the sphere of marriage and family life.
In order to carry out its Aim, its Objects:
To uphold Christ's teaching on the nature of marriage and promote its wider understanding.

To encourage parents to bring up their children in the faith and life of the Church.

To maintain a worldwide fellowship of Christians united in prayer, worship and service.

To promote conditions in society favourable to stable family life and the protection of children.

To help those whose family life has met with adversity.
Please contact Helen Banyard 721616 or Jenny Bowen 720820 for further information. All our meetings are open to everyone, members and non-members alike.
The Committee
Helen Banyard - The Vicarage, Chippenham 721616
Gaynor Ryan - 1 Manor Farm Barns, Snailwell 577703
Jenny Bowen - 38 Trinity Close, Fordham 720820
Jean Bayes - 5 Eldith Avenue, Fordham 720024
Judy Abbott - 50 Mildenhall Rd, Fordham 720706
Eileen Page - 2 Parkside, Chippenham 720125
Paula Fleet - 49 Carter Street, Fordham 720306