Foodbank
Please don't forget to bring your contributions to church or the local Co-op shops. Your contributions are still very much needed and really valued.
There is also a call for toiletries - soap, shampoo, shower gel, toothpaste and so on.
The institution of the Rev'd David Cleugh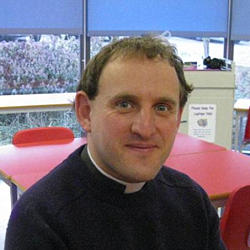 The institution of the Rev'd David Cleugh as Rector of the Three Rivers Group by the Bishop of Ely was held on Friday, October 20 in St Peter and St Mary Magdalene, Fordham.
There was a good turnout with excellent music during the service and splendid refreshments afterwards. Thanks to all who helped to make it a great occasion.
David and his wife Hannah, who is the Senior Chaplain to the Bishop of Ely, will live at the vicarage in Fordham.


Thought for the week
This week think about what are the talents of your friends, family, neighbours (both in the pew and house). Perhaps you could gently let them know what you perceive their talent to be.
Healing Eucharist - next on Sunday November 19
Healing Eucharist is on the 3rd Sunday of the month in the evening and is held at Fordham at 6.30pm.
Traidcraft Christmas Catalogues
Now available in our churches. Great gift ideas and a way to support Fairtrade. Orders to Lydia Cant – contact details on order forms.
James Marston - Placement Student
We are pleased to welcome James Marston on placement in the Three Rivers Group. James is training for ordination at Westcott House, Cambridge. He will be with us for the next year.
New Member of the Ministry Team
On Tuesday 21st November we will be welcoming Mel Takac as our new "Pioneer Partner".
Mel is coming to work full time across the group as part of her exploration of what God is calling her to do. Mel will be with us for between 12-21 months. Please do make her feel welcome.

Mel will be commissioned at Fordham and Isleham on 3rd December and Snailwell and Chippenham 10th December.
More about Pioneer Ministry:
Tuesday mornings - opportunities to meet!
Fordham church cafe
As usual on August 8 onwards.
From 9am onwards. Refreshments and play area for children.


St Andrew's Isleham Coffee morning
Tea, coffee, cake and bacon rolls, from 9am- 12noon.
Fordham Day Centre Lunch Club - next on November 22
Fordham Day Centre is a lunch club for older people and meets on the 1st and 4th Wednesday of each month from 10.30am to 2.30pm.
We meet at Withers' Place community room for company, chat and food. Coffee and tea are provided on arrival, then lunch and a cup of tea before you leave.
We have a "mobility" taxi available, if needed, for transport to and from the meetings. The Day Centre is run by volunteers (not carers) who cook and look after the members.
If you are interested and would like to know more about the Day Centre please contact Judith Wood. Tel: 01638 720328.
Three Rivers Mothers' Union - next on November 22 & 27
Wednesday November 22 at 2.30pm – Victoria Hall, Fordham with speaker Maureen Haig "MU Action and Outreach".


The Deanery Advent Carol Service will be at St. Andrew's, Soham on November 27 at 12 noon, followed by a light lunch. All are welcome.
All welcome at any of our meetings or events.
The Thursday Prayer Group - next on November 23 & 30
We now meet on a weekly basis to pray together about current affairs and needs for approximately one hour, and would welcome any who would like to join us, whether you wish to pray aloud or in your heart. On November 23 and 30 we shall meet at the Vatcher's, 96 The Causeway, Isleham.
Grave Talk - a new initiative next on Saturday December 2
Note: there will not be a Grave Talk in November as Carol is not available.
Grave Talk is a café space where people can talk about death, dying and planning our own funeral services.
This project, launched through the Church of England is taking place in Fordham church on the first Saturday of the month (except August), from 10am – 11.30 ish. Good coffee and cake provided. All welcome.
Contact Carol Taylor for more details.
Mums+ - next on December 8
Mums+ is a monthly coffee morning for fun, conversation and sharing our questions of life, faith and parenthood – all ages welcome. For more details contact Laura Cox-Watson 01638 724839.
Upcoming dates -
Messy Church - next on December 10
For families - Crafts, story/song session and a simple meal at Fordham church from 3.30-5.30pm on the second Sunday of the month.
If you know anyone who would like to take part, or you would like to help in any way please do speak to one of the Ministry Team.
Daily Bread - readings for the week beginning November 19
Monday

November 20

Tuesday

November 21

Wednesday

November 22

Thursday

November 23

Friday

November 24

Saturday

November 25

Sunday November 26
Mid-week services
Monday
9am Morning Prayer at Kennet.
We meet at 7 The Close, Kennett.
Tuesday
8.15am Morning Prayer at Isleham at St Andrew's Social Centre.
10.15am Collective Worship at Fordham School.
Wednesday
8.15am Morning Prayer at Chippenham.
7pm Compline at Snailwell.
Thursday
8.30am Holy Communion at Fordham.
9am Collective Worship at Isleham School.
10.15am Collective Worship at Kennett School.
Friday
8.15am Morning Prayer at Fordham.
Major Festivals: Easter, Christmas Day 8am Holy Communion BCP at Fordham.
Home Communions where requested.
All three schools attend church at Harvest, Christmas and Easter and at other times as they ask.

Please do ask others to join us all for worship either on Sundays or during the week.
Sunday Services in The Three Rivers Group
Chippenham

1st Sunday 11am Family Service.
2nd, 3rd & 5th Sundays 11am Sung Eucharist.
4th Sunday 6.30pm Evensong.

Fordham

1st, 2nd, 4th & 5th Sundays 11am Sung Eucharist.
3rd Sunday 11am Family Service.
1st Sunday 6.30pm Evening Worship of various kinds during the year.
3rd Sunday Healing Eucharist at 6.30pm.

Isleham

1st, 2nd, 4th & 5th Sundays 9.30am Holy Communion.
3rd Sunday 9.30am Family Eucharist.

Kennett

We now have a monthly service on the third Sunday of the month at 3.30pm.
Snailwell

1st, 3rd, 4th & 5th Sunday 9:30am Holy Communion.
2nd Sunday 9.30am Family Service.
Healing Eucharist will always be on the 3rd Sunday of the month in the evening and is held at Fordham at 6.30pm.